-Spruce up your garden with books!-
Spruce up your garden with books turned into flower pots! Or paint old bricks to look like the spines of your favorite books.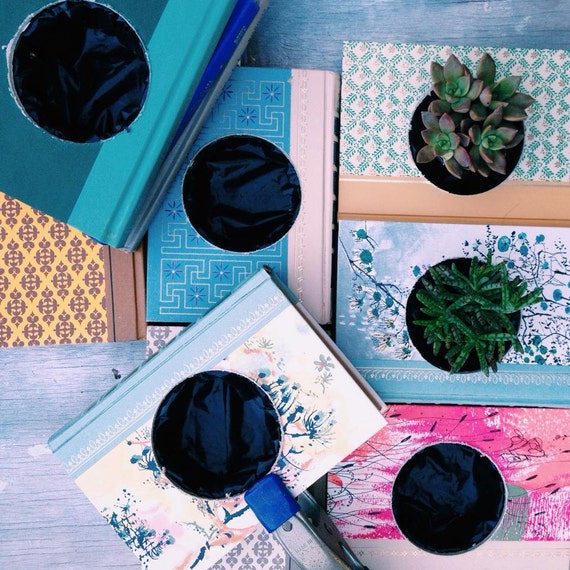 ---
-love at first line library display-
My sweet friend sent me this!
Love At First Line
The books are wrapped and only the first line is available to see. So. Freaking. Cute.
---
BOOKS & FASHION = SOME OF MY FAVORITE THINGS!
    WHAT'S YOUR HOUSE? AND YOUR FAVE OUTFIT?
---
---
-Harry Potter Craft/Home Decor-
---
-Harry Potter Christmas Decor- 
I know there are people who say Harry Potter has nothing to do with Christmas… To those people, you are wrong. Hop off this page. XOXO
For the Believers, Here ya go!
---
-Passing Out Books For Halloween- 
I heard stories of how epic my street was on Halloween, but I had to see it to believe it. 
Shots. My neighbors pass out shots. 

A haunted house that made my youngest muggle scream. 

A hay ride by a slightly tipsy woman- wouldn't suggest it. 
A drunk Santa. He's always a good time. 
The atmosphere, it's magical. 
I wanted to do something that added to the beauty of our street, so of course, I implemented books. 
Starting in September, I get on the Next Door app and start asking for donations. The women around here are always happy to clean out their kids' bookshelves. But with close to 400 Trick or Treaters a year (our street is that of legends, people come far and wide to enjoy the festivities). 
My Neighborhood BFF does WORK, y'all. She's a teacher and she starts knocking on those classroom doors asking for donations. She goes to Half Priced Books and works her magic, she taps into her tribe and they donate, too! 
Each year we pick a theme. Two years ago, it was Belle- duh. And this year, I had my followers on Candace Reads Books pick for me! Star Wars won, and I am so dang happy because Rey is a bad ass and I'm all about the girl power. 
Not every kid wants a book, and that's totally fine! I realize they're out there for candy, and we are sure to have oodles of it. I don't want my house getting egged by a brat in an IT contest whose mad they didn't get their ho-ho. 
But there are some kids… *wipes tears* who genuinely love it. One little boy ran across the street screaming "BOOKS!" Much to his moms dismay, because cars and drunken hay rides (I would like to add, the hay ride did not occur on year two; thank you, Baby Jesus.) Kids get EXCITED, and my heart recharges for the year. 
Readers are leaders, y'all. 
---
-Harry Potter Inspired Wedding-
Today is the Muggle-Husband and mines FOUR year wedding anniversary!
When we started planning, I knew I wanted to add bookish touches. I wanted it to feel like Twilight and Harry Potter had a baby.
One day, when I'm not so lazy, I'll make a post with all the pictures. But for now, here is how we did it:
1) I walked down the aisle to A Thousand Years, which was the song for Bella & Edwards wedding.
2) Our vows , they included a quote from Richelle Meads novel, Bloodlines. "Until now, you have lived your life alone. Now, and for the rest of your days, your life will be tied to another's. Every decision you make will be for both of you. What one does affects the other. You are a family, a team, inseparable and unbreakable."
3) Our wedding invitations read "After all this time? Always."
4) Decorations were ornate frames with love quotes from our favorite books.
5) Keys and owls! They were everywhere. On my Maid of Honors bouquet, and glued to whatever I possibly could lol! Because owls & keys are Harry Potter- duh. And birdcages! How can you look at a bird cage (or an owl) and not think HARRY POTTER!
There's more, but I'm having a brain fart. One day I'll make an entire blog post… one day . I love you, sweet husband. You are truly better than books.
---
-Harry Potter High School Dance Team Routine- 
---
-Backwards Books- 
Notice something odd? 
Some of the books are turned around! 
I used to think this was so weird. But while decorating my family room, I kept a strict color-scheme and my OCD was crying over my hoard of mix-matched books with not-so-pretty spines. 
So, I flipped them around!
Would y'all flip your books around? Or would you feel like you're hurting their feelings? (That was my issue 
)
Some people, including myself, remove the jackets off of hardbacks! Go do it, you'll be surprised by how pretty what's underneath is.
---
Scouring the internet for ways to decorate with books, that won't ultimately end up in an epic Pinterest Fail was fun. Here's what I found. 
---
-My Rainbow Bookshelf-
This was the start of my endeavor. In my local library there is a tiny little shop that sells books from a dollar to three. It was odd shopping for books by color and not by title, story, or author. But I still managed to find books that I intend to read. One day lol.
-Finished Product- 
Shelves are from IKEA, I spray painted the brackets gold. As well as the silver plant pot. 
The pink and gold vase is from At Home, and only like 8 bucks or something. 
The black and white polka dot plant is from 5 Below, and you guessed it, the pot cost 5 bucks. Plant included. 
The vintage teeny tiny clock and black and white striped box are both from Hobby Lobby, totaling in at about 11 dollars. 
The 'THINK' Rae Dunn paper weight was a gift, but can be found at Marshall's. Just get there early because professional Rae Hunters are always on the prowl. 
And the mirror is from Ross! I never shop at Ross, but I was feeling froggy. Only cost me 24 bucks! 
So, minus the mirror, the entire project cost about forty-five dollars. Not too shabby for an entire corner being transformed. 
---
-Bookish Decor-
Visit the sign makers FB : Scrapalicious LLC
---
-Bookish Cake-