We've all heard of or seen Rory's master list of books mentioned from the original series. If you haven't, here you go- all 339 of them.
But I want to talk about 'Gilmore Girls: A Year in the Life'! Simply because it is a much, much shorter list.  
---
Genre: Fiction, Contemporary
What's It All About? 
(Side Note: How hot is Ewan McGregor?)
Choose us. Choose life. Choose mortgage payments; choose washing machines; choose cars; choose sitting oan a couch watching mind-numbing and spirit-crushing game shows, stuffing fuckin junk food intae yir mooth. Choose rotting away, pishing and shiteing yersel in a home, a total fuckin embarrassment tae the selfish, fucked-up brats ye've produced. Choose life.
---
Genre: Young Adult, Historical, Classic Literature
What's It All About?
Mark Twain's brilliant 19th-century novel has long been recognized as one of the finest examples of American literature. It brings back the irrepressible and free-spirited Huck, first introduced in The Adventures of Tom Sawyer, and puts him center stage. Rich in authentic dialect, folksy humor, and sharp social commentary, Twain's classic tale follows Huck and the runaway slave Jim on an exciting journey down the Mississippi.
---
Genre: Fiction, Classic Literature
Gilmore Girl Fact: This book was placed on Richard's coffin at his funeral. I've loved him since Richie Rich.
What's It All About? 
A collection of quintessentially American poems, the seminal work of one of the most influential writers of the nineteenth century.
THIS ENRICHED CLASSIC EDITION INCLUDES:
A concise introduction that gives readers important background information
A chronology of the author's life and work
A timeline of significant events that provides the book's historical context
An outline of key themes and plot points to help readers form their own interpretations
Detailed explanatory notes
Critical analysis, including contemporary and modern perspectives on the work
Discussion questions to promote lively classroom and book group interaction
A list of recommended related books and films to broaden the reader's experience.
---
Genre: Travel, Fiction, Classic Literature
Gilmore Girl Fact: On the Road was mentioned in the original series, and the revival. First time by Jess, second time by Lorelei. #TEAMJESS (HAHAHA to my BFF Ashley who is Team Lame Logan)
What's It All About? 
On the Road chronicles Jack Kerouac's years traveling the North American continent with his friend Neal Cassady, "a sideburned hero of the snowy West." As "Sal Paradise" and "Dean Moriarty," the two roam the country in a quest for self-knowledge and experience. Kerouac's love of America, his compassion for humanity, and his sense of language as jazz combine to make On the Road an inspirational work of lasting importance.
Kerouac's classic novel of freedom and longing defined what it meant to be "Beat" and has inspired every generation since its initial publication.
---
Genre: Self-Help, Nonfiction
Side Note: I don't think I can soundly suggest this book. After reading oodles and oodles of reviews… Well, here's one in particular from Goodreads: "Do you like talking to furniture? Do you believe shirts have souls? Are you insane? This might be the book for you." While I feel like my stuffed animals do in fact have souls, and maybe sometimes furniture… I can't get on board with getting rid of everything that doesn't bring me joy. Like… Tampons, for example. 
What's It All About? 
Despite constant efforts to declutter your home, do papers still accumulate like snowdrifts and clothes pile up like a tangled mess of noodles?
Japanese cleaning consultant Marie Kondo takes tidying to a whole new level, promising that if you properly simplify and organize your home once, you'll never have to do it again. Most methods advocate a room-by-room or little-by-little approach, which doom you to pick away at your piles of stuff forever. The KonMari Method, with its revolutionary category-by-category system, leads to lasting results. In fact, none of Kondo's clients have lapsed (and she still has a three-month waiting list).
With detailed guidance for determining which items in your house "spark joy" (and which don't), this international best seller featuring Tokyo's newest lifestyle phenomenon will help you clear your clutter and enjoy the unique magic of a tidy home – and the calm, motivated mindset it can inspire.
---
Genre: Nonfiction, Classic, War, Psychology, Business and Politics
Side Note: This book is old as poop, original publication was circa 500 BCE!
What's It All About?
Conflict is an inevitable part of life, according to this ancient Chinese classic of strategy, but everything necessary to deal with conflict wisely, honorably, victoriously, is already present within us. Compiled more than two thousand years ago by a mysterious warrior-philosopher, The Art of War is still perhaps the most prestigious and influential book of strategy in the world, as eagerly studied in Asia by modern politicians and executives as it has been by military leaders since ancient times. As a study of the anatomy of organizations in conflict, The Art of War applies to competition and conflict in general, on every level from the interpersonal to the international. Its aim is invincibility, victory without battle, and unassailable strength through understanding the physics, politics, and psychology of conflict.
---
Genre: Nonfiction, Humor, Short Stories
What's It All About? 
Do lobsters feel pain? Did Franz Kafka have a funny bone? What is John Updike's deal, anyway? And what happens when adult video starlets meet their fans in person? David Foster Wallace answers these questions and more in essays that are also enthralling narrative adventures. Whether covering the three-ring circus of a vicious presidential race, plunging into the wars between dictionary writers, or confronting the World's Largest Lobster Cooker at the annual Maine Lobster Festival, Wallace projects a quality of thought that is uniquely his and a voice as powerful and distinct as any in American letters.
Contains: "Big Red Son," "Certainly the End of Something or Other, One Would Sort of Have to Think," "Some Remarks on Kafka's Funniness from Which Probably Not Enough Has Been Removed," "Authority and American Usage," "The View from Mrs. Thompson's," "How Tracy Austin Broke My Heart," "Up, Simba," "Consider the Lobster," "Joseph Frank's Dostoevsky" and "Host.
---
Genre: Memoir, Travel, Biography
What's It All About? 
At twenty-two, Cheryl Strayed thought she had lost everything. In the wake of her mother's death, her family scattered and her own marriage was soon destroyed. Four years later, with nothing more to lose, she made the most impulsive decision of her life. With no experience or training, driven only by blind will, she would hike more than a thousand miles of the Pacific Crest Trail from the Mojave Desert through California and Oregon to Washington State — and she would do it alone.
Told with suspense and style, sparkling with warmth and humor, Wild powerfully captures the terrors and pleasures of one young woman forging ahead against all odds on a journey that maddened, strengthened, and ultimately healed her.
---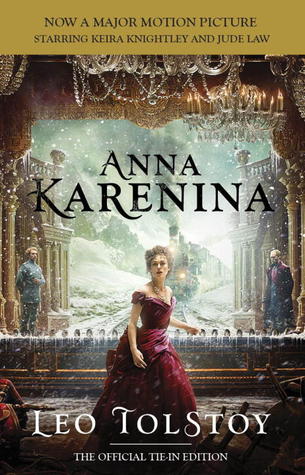 Genre: Fiction, Classic Literature, Romance
Side Note: I just bought this book! Had no idea it was on the list until today, eek! Even more excited to read it now!
What's It All About? 
Leo Tolstoy's classic story of doomed love is one of the most admired novels in world literature. Generations of readers have been enthralled by his magnificent heroine, the unhappily married Anna Karenina, and her tragic affair with dashing Count Vronsky.
In their world frivolous liaisons are commonplace, but Anna and Vronsky's consuming passion makes them a target for scorn and leads to Anna's increasing isolation. The heartbreaking trajectory of their relationship contrasts sharply with the colorful swirl of friends and family members who surround them, especially the newlyweds Kitty and Levin, who forge a touching bond as they struggle to make a life together. Anna Karenina is a masterpiece not only because of the unforgettable woman at its core and the stark drama of her fate, but also because it explores and illuminates the deepest questions about how to live a fulfilled life.
---
Genre: Memoir, Humor, Short Stories
What's It All About?
With her disarming, intimate, completely accessible voice, and dry sense of humor, Nora Ephron shares with us her ups and downs in I Feel Bad About My Neck, a candid, hilarious look at women who are getting older and dealing with the tribulations of maintenance, menopause, empty nests, and life itself.
The woman who brought us When Harry Met Sally . . ., Sleepless in Seattle, You've Got Mail, and Bewitched, and the author of best sellers Heartburn, Scribble Scribble, and Crazy Salad, discusses everything–from how much she hates her purse to how much time she spends attempting to stop the clock: the hair dye, the treadmill, the lotions and creams that promise to slow the aging process but never do. Oh, and she can't stand the way her neck looks. But her dermatologist tells her there's no quick fix for that.
---
Genre: Theater, Drama, Fiction
What's It All About? 
"Twelve times a week," answered Uta Hagen when asked how often she'd like to play Martha in Who's Afraid of Virginia Woolf? In the same way, audiences and critics alike could not get enough of Edward Albee's masterful play. A dark comedy, it portrays husband and wife George and Martha in a searing night of dangerous fun and games. By the evening's end, a stunning, almost unbearable revelation provides a climax that has shocked audiences for years. With the play's razor-sharp dialogue and the stripping away of social pretense, Newsweek rightly foresaw Who's Afraid of Virginia Woolf? as "a brilliantly original work of art–an excoriating theatrical experience, surging with shocks of recognition and dramatic fire [that] will be igniting Broadway for some time to come."
---
Genre: Fiction, Horror, Gothic, Classic, Fantasy
What's It All About? 
Written in his distinctively dazzling manner, Oscar Wilde's story of a fashionable young man who sells his soul for eternal youth and beauty is the author's most popular work. The tale of Dorian Gray's moral disintegration caused a scandal when it first appeared in 1890, but though Wilde was attacked for the novel's corrupting influence, he responded that there is, in fact, "a terrible moral in Dorian Gray." Just a few years later, the book and the aesthetic/moral dilemma it presented became issues in the trials occasioned by Wilde's homosexual liaisons, which resulted in his imprisonment. Of Dorian Gray's relationship to autobiography, Wilde noted in a letter, "Basil Hallward is what I think I am: Lord Henry what the world thinks me: Dorian what I would like to be—in other ages, perhaps."
---
Genre: Fantasy, Classic Literature
What's It All About? 
One Ring to rule them all, One Ring to find them, One Ring to bring them all and in the darkeness bind them
In ancient times the Rings of Power were crafted by the Elven-smiths, and Sauron, The Dark Lord, forged the One Ring, filling it with his own power so that he could rule all others. But the One Ring was taken from him, and though he sought it throughout Middle-earth, it remained lost to him. After many ages it fell into the hands of Bilbo Baggins, as told in The Hobbit.
In a sleepy village in the Shire, young Frodo Baggins finds himself faced with an immense task, as his elderly cousin Bilbo entrusts the Ring to his care. Frodo must leave his home and make a perilous journey across Middle-earth to the Cracks of Doom, there to destroy the Ring and foil the Dark Lord in his evil purpose.
---
Genre: Memoir
What's It All About? 
My Struggle: Book One introduces American readers to the audacious, addictive, and profoundly surprising international literary sensation that is the provocative and brilliant six-volume autobiographical novel by Karl Ove Knausgaard. It has already been anointed a Proustian masterpiece and is the rare work of dazzling literary originality that is intensely, irresistibly readable. Unafraid of the big issues—death, love, art, fear—and yet committed to the intimate details of life as it is lived, My Struggle is an essential work of contemporary literature.
---
did you know lauren graham, aka: lorelai gilmore has written two books!?
Genre: Women's Fiction, Chick-Lit, Romance
What's It All About? 
Franny Banks is a struggling actress in New York City, with just six months left of the three-year deadline she gave herself to succeed. But so far, all she has to show for her efforts is a single line in an ad for ugly Christmas sweaters and a degrading waitressing job. She lives in Brooklyn with two roommates – Jane, her best friend from college, and Dan, a sci-fi writer, who is very definitely not boyfriend material – and is struggling with her feelings for a suspiciously charming guy in her acting class, all while trying to find a hair-product cocktail that actually works.
Meanwhile, she dreams of doing "important" work, but only ever seems to get auditions for dishwashing liquid and peanut butter commercials. It's hard to tell if she'll run out of time or money first, but either way, failure would mean facing the fact that she has absolutely no skills to make it in the real world. Her father wants her to come home and teach, her agent won't call her back, and her classmate Penelope, who seems supportive, might just turn out to be her toughest competition yet.
ANd…
Genre: Memoir, Humor
Side Note: Read this and laughed the whole way through. Simply amazing!
What's It All About? 
In this collection of personal essays, the beloved star of Gilmore Girls and Parenthood reveals stories about life, love, and working as a woman in Hollywood—along with behind-the-scenes dispatches from the set of the new Gilmore Girls, where she plays the fast-talking Lorelai Gilmore once again.
In Talking as Fast as I Can, Lauren Graham hits pause for a moment and looks back on her life, sharing laugh-out-loud stories about growing up, starting out as an actress, and, years later, sitting in her trailer on the Parenthood set and asking herself, "Did you, um, make it?" She opens up about the challenges of being single in Hollywood ("Strangers were worried about me; that's how long I was single!"), the time she was asked to audition her butt for a role, and her experience being a judge on Project Runway ("It's like I had a fashion-induced blackout").
In "What It Was Like, Part One," Graham sits down for an epic Gilmore Girls marathon and reflects on being cast as the fast-talking Lorelai Gilmore. The essay "What It Was Like, Part Two" reveals how it felt to pick up the role again nine years later, and what doing so has meant to her.
Some more things you will learn about Lauren: She once tried to go vegan just to bond with Ellen DeGeneres, she's aware that meeting guys at awards shows has its pitfalls ("If you're meeting someone for the first time after three hours of hair, makeup, and styling, you've already set the bar too high"), and she's a card-carrying REI shopper ("My bungee cords now earn points!").
Including photos and excerpts from the diary Graham kept during the filming of the recent Gilmore Girls: A Year in the Life, this book is like a cozy night in, catching up with your best friend, laughing and swapping stories, and—of course—talking as fast as you can