It's over for us. No damage to our house other than a hot-mess in the yard, and a lot of muddy dog prints in side (R.I.P White Couch). We got lucky.
Let's start with the laughing. We all need it. 
I learned that after 48 hours straight of Tornado Warnings buzzing on the television & phones, your nine year old will eventually mutter the words, "oh my gosh, we know already".
2. You know what doesn't work? Sheltering in place with two weenies, two boxers, 1 older than crap fish, and a Guinea Pig who is hated by one weenie dog, and feared by the other, in a small confined area. I don't suggest it.
3. My BFF and her family, with ours, would go on 'field trips' together. We would walk around the neighborhood  and splash in the rain, and ultimately learn what raw sewage smells like. This was the highlight of our days, and prevented us from murdering our husbands. Alcohol also helps. We didn't have an abundance of eggs or milk, but by golly, we had Jack Daniels and Benadryl. (Other highlights- GoT and T.Swift… LOOK WHAT YOU MADE ME DO, BITCHES!)
4. Watching rescuers take shots of alcohol on a raft while the news reporter said "Oh, how sweet, they're sharing water from the cap". The many pictures of my friends drinking their worries away while waters got higher. Probably not the safest activity during a Hurricane, but this is one time I will condone it.
5. When I cried because Shipley's opened for a day. Allowing me to eat 10 kolaches and 6 donuts. A girl can't survive without her donuts.
BONUS: That odd moment when I didn't roll my eyes at Donald Trump, who came here with his lovely wife in a super cute casual outfit.
---
The shitty stuff.
When my daughter cried for all of the stray animals that will most likely die. And when I  saw the amount of people who tied their dogs to trees and left them to drown. But… with that, came men and women taking animals into their homes. I saw SO many posts about baby squirrels and possums also being rescued.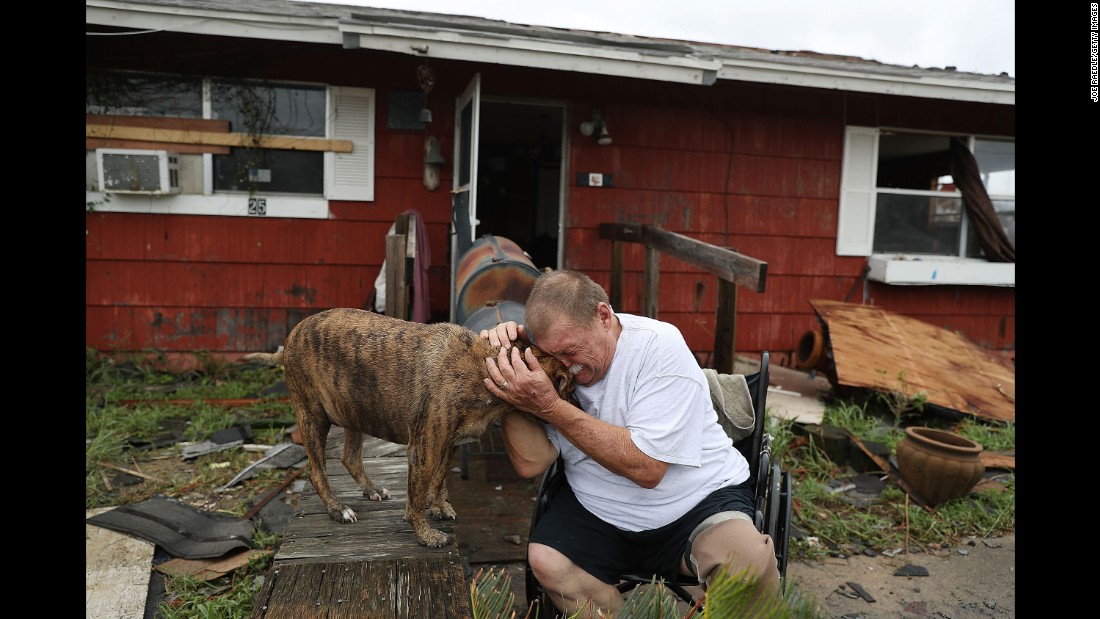 2. This image. So many waited for help, and SO MANY CAME TO HELP. The Cajun Navy, who I had never heard of, is a big-ass group of Cajuns from Louisiana who came with their boats to save us… It wasn't their job, they did it because humans have humanity. 
3. The morning after the worst night, the internet was down… I didn't know which of my friends were okay. I held my useless phone staring at it, realizing how amazing and horrible it is to rely on these things. All I needed was service, and we could continue helping one another again. Facebook saved lives, y'all. People would post their address and BAM, their saviors would start their journey to save them. It's beautiful.
I don't want to finish this right now… I will later, though. It takes a lot to emotionally fuck me. But this did it.