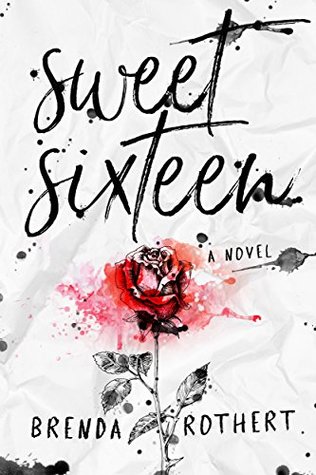 Book: Sweet Sixteen
Author: Brenda Rothert
Publisher and Publication Date: Silver Sky Publishing, Inc.
Pages: 213
Genre: New Adult Romance
Rating: 
*ARC provided in exchange for an honest review.*
What's It All About? 
They say roses are the most beautiful…
Gin Fielding is counting the days until she escapes the small-town life of Roper, Missouri for college at NYU. She prefers to blend in, though she's far from invisible. But when she protects a younger student from a bully, the spotlight turns on her in ways she never imagined.
I say that every rose has its thorn…
The Friday night lights shine bright on Chase Matthews. Roper's golden boy, Chase can do no wrong, enjoying the small-town celebrity being the star quarterback brings. When Gin defends his little sister against a bully, he decides to lend her his star power and change her senior year in ways she never imagined.
But maybe the thorns are part of their beauty.
When Gin declines Chase's invitation to be part of the elite Sweet Sixteen, the repercussions turn both their lives upside down. But amidst the chaos, Gin and Chase find solace in one another. Together, they confront the ugly truth— that sometimes glory has a dark side.
***Warning—Sweet Sixteen is an upper YA book with mature themes and is intended for readers 18+.
 My Review in a Nutshell:
When I realized what Sweet Sixteen actually meant, I shat my pants. Just kidding. But my stream of emotions went like this:
Shock

Horror

Intrigued

Anger

Confusion

Rinse and repeat
Those emotions made this book a one-sit-read.
I instantly fell in love with Gin, and instantly love-hated Chase. She is an outcast in her football driven hick town, and he's the golden boy. Polar opposites. Which made their budding relationship that much more interesting. But not in the ways you think. Brenda really broke the mold on character development. *DEAR GOD I WISH I COULD SAY MORE BUT I CAN NOT.*
I appreciate how many important issues were gracefully tackled in this book: misogyny, racism, abuse of all kinds… The plot is scandalous, the kind that'll mind-fuck you for years to come because it is REAL LIFE and showcases how desensitized our society has become.
Nothing was sugar coated here; not everything will be wrapped up in a pretty little bow in the end. And I loved it.
There's a lesson to be learned through Gin and Chase. Their story is more than romance. so. damn. much. more.