It's national poetry month, y'all!
Here are some more modern poetry books that won't make your brain hurt, and inspire you. 
What's It All About?
Love Her Wild is a collection of new and beloved poems from Atticus, the young writer who has captured the hearts and minds of hundreds of thousands of avid followers on his Instagram account @atticuspoetry, including superstars like Karlie Kloss and Shay Mitchell. He was dubbed the "#1 poet to follow" by Teen Vogue and "the world's most tattoo-able" poet by Galore magazine, in Love Her Wild, Atticus captures what is both raw and relatable about the smallest and the grandest moments in life: the first glimpse of a new love in Paris; skinny dipping on a summer's night; the irrepressible exuberance of the female spirit; or drinking whiskey in the desert watching the rising sun. With honesty, poignancy, and romantic flair, Atticus distills the most exhilarating highs and the heartbreaking lows of life and love into a few perfectly evocative lines, ensuring that his words will become etched in your mind—and will awaken your sense of adventure.
---
What's It All About? 
"I need you to understand something. I wrote this for you. I wrote this for you and only you. Everyone else who reads it, doesn't get it." Started 2007, I Wrote This For You is an acclaimed exploration of hauntingly beautiful words, photography and emotion that's unique to each person that reads it. This book gathers together nearly 200 of the most beautiful entries into four distinct chapters; Sun, Moon, Stars, Rain. Together with several new and exclusive entries that don't appear anywhere else, each chapter of I Wrote This For You focuses on a different facet of life, love, loss, beginnings and endings.
---
What's It All About? 
milk and honey is a collection of poetry and prose about survival. It is about the experience of violence, abuse, love, loss, and femininity. It is split into four chapters, and each chapter serves a different purpose, deals with a different pain, heals a different heartache. milk and honey takes readers through a journey of the most bitter moments in life and finds sweetness in them because there is sweetness everywhere if you are just willing to look.
---
What's It All About? 
"Ah, life- the thing that happens to us while we're off somewhere else blowing on dandelions & wishing ourselves into the pages of our favorite fairy tales."
A poetry collection divided into four different parts: the princess, the damsel, the queen, & you. the princess, the damsel, & the queen piece together the life of the author in three stages, while you serves as a note to the reader & all of humankind. Explores life & all of its love, loss, grief, healing, empowerment, & inspirations
---
What's It All About? 
Depression & Other Magic Tricks is the debut book by Sabrina Benaim, one of the most-viewed performance poets of all time, whose poem "Explaining My Depression to My Mother" has become a cultural phenomenon with over 5,000,000 views.
Depression & Other Magic Tricks explores themes of mental health, love, and family. It is a documentation of struggle and triumph, a celebration of daily life and of living. Benaim's wit, empathy, and gift for language produce a work of endless wonder.
---
What's It All About?
"A wounded deer leaps highest." – Emily Dickinson
My amazing husband bought me this for Christmas. Before beginning, I read Emily's Wikipedia (sue me, I love Wikipedia), and I have to say, Emily's life is EXTREMELY interesting. Def read it before you dive into her poems, I feel like it's given me a better understanding of what she was feeling and the madness of her era.
---
What's It All About? 
Claudia Rankine's bold new book recounts mounting racial aggressions in ongoing encounters in twenty-first-century daily life and in the media. Some of these encounters are slights, seeming slips of the tongue, and some are intentional offensives in the classroom, at the supermarket, at home, on the tennis court with Serena Williams and the soccer field with Zinedine Zidane, online, on TV-everywhere, all the time. The accumulative stresses come to bear on a person's ability to speak, perform, and stay alive. Our addressability is tied to the state of our belonging, Rankine argues, as are our assumptions and expectations of citizenship. In essay, image, and poetry, Citizen is a powerful testament to the individual and collective effects of racism in our contemporary, often named "post-race" society.

---
What's It All About? 
The witch: supernaturally powerful, inscrutably independent, and now—indestructible. These moving, relatable poems encourage resilience and embolden women to take control of their own stories. Enemies try to judge, oppress, and marginalize her, but the witch doesn't burn in this one.
---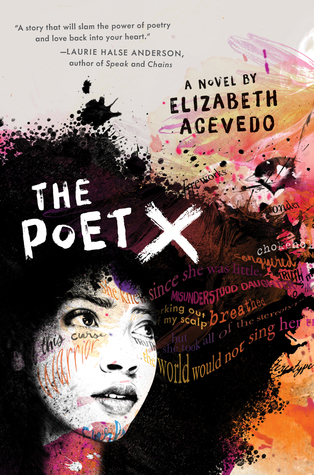 What's It All About? 
A young girl in Harlem discovers slam poetry as a way to understand her mother's religion and her own relationship to the world. Debut novel of renowned slam poet Elizabeth Acevedo.
Xiomara Batista feels unheard and unable to hide in her Harlem neighborhood. Ever since her body grew into curves, she has learned to let her fists and her fierceness do the talking.
But Xiomara has plenty she wants to say, and she pours all her frustration and passion onto the pages of a leather notebook, reciting the words to herself like prayers—especially after she catches feelings for a boy in her bio class named Aman, who her family can never know about. With Mami's determination to force her daughter to obey the laws of the church, Xiomara understands that her thoughts are best kept to herself.
So when she is invited to join her school's slam poetry club, she doesn't know how she could ever attend without her mami finding out, much less speak her words out loud. But still, she can't stop thinking about performing her poems.
Because in the face of a world that may not want to hear her, Xiomara refuses to be silent.

---
What's It All About? 
My love is poison. His kiss is mine.
"The first time he saw me I was shattered glass, and he was a shadow. If I had stayed, he would have just faded away."
It's strange how easy it is to tell our stories to a stranger's eyes. The truth about Connor Stratford and I had always been a sad tale. Over ten years of chasing, tears, lies, vows, and leaving. Two people who never loved each other at the same time, but couldn't let each other go.
Now here I was telling our story over drinks midday in an airport bar with my old diary clutched in my hand. Telling some version of our story, anyway.
I left him once with no goodbye. Now I was returning home to give him what he needed to move on.
"It's important. It's what you're thinking."
I knew what his message meant, sent in the middle of the night after I woke from a fever dream.
He was finally ready, and so was I. I just needed to finally give him the kiss he begged for.
The one that meant goodbye.

---
What's It All About? 
A collection with a feminist ethos that cuts across race, gender identity, and sexuality.
Creative activists have reacted to the 2016 Presidential election in myriad ways. Editors Danielle Barnhart and Iris Mahan have drawn on their profound knowledge of the poetry scene to put together an extraordinary list of poets taking a feminist stance against the new authority. What began as an informal collaboration of like-minded poets—to be released as a handbound chapbook—has grown into something far more substantial and ambitious: a fully fledged anthology of women's resistance, with a portion of proceeds supporting Planned Parenthood and the Center for Reproductive Rights.
Representing the complexity and diversity of contemporary womanhood and bolstering the fight against racism, sexism, and violence, this collection unites powerful new writers, performers, and activists with established poets.
---
---
What's It All About? 
Love, tequila, sex, first periods, late nights, abuse, and heartache. The journey from girl to womanhood is brimming with transformative magic that heals even as it shatters. These are the memories that haunt the dreams of what was and what could have been in Girl with Death Mask.
In four rich and imaginative movements of poems, Jennifer Givhan profiles the suffering and the love of a Latina girl and then mother coming to terms with sexual trauma. Her daughter is a touchstone of healing as she seeks to unravel her own emotions and protect the next generation of women with a fierceness she must find within. Givhan exploits changing poetic forms to expose what it means to mature in a female body swirling with tenderness, violence, and potential in an uncertain world. Girl with Death Mask is a cathartic and gripping confession of the trials of adolescence and womanhood.

Happy Reading, Y'all!